Over the past 15 years or so High Intensity Interval Training, or HIIT, has truly become the holy grail of fat burning exercise.
This super-effective exercise protocol can get you a lot leaner, a lot faster, spending a lot less time exercising.
Up until recently it was believed that the best way to burn off body fat was through prolonged, low intensity exercise such as jogging, skipping, aerobics classes, and so on.
But all that has since changed.
Most of the principles of High Intensity Interval Training come from the work of Dr. Izumi Tabata from the National Institute of Health & Nutrition in Tokyo, Japan. He set out on a mission to find the ideal type of cardio exercise.
And as a result, since then it's been found that High Intensity Interval Training is far superior for burning body fat and improving your physical conditioning.
What Exactly is High Intensity Interval Training?
HIIT is a form of cardio exercise whose protocol involves the following components:
A 3-5 minute warm up, such as a light jog.
Usually 4 to 25 (sometimes more) bursts, or intervals, of high intensity exercise, separated by periods of low to moderate intensity exercise for recovery.
A 3-5 minute cool down, such as a light jog.
Any one of a variety of exercises can be used for both the high intensity and low intensity recovery phases of HIIT. For example:
Sprinting/Jogging
Exercise Bike
Elliptical Cycle/Cross Trainer
Rowing Machine
Skipping
Punching Bag
The length of both the high intensity and recovery phases of High Intensity Interval Training can vary anywhere from 10 seconds to 2 minutes and sometimes more. The ratio of the high intensity interval length to the recovery phase length can also vary.
These parameters are generally tailored to suit the individual, based on their level of fitness and what they're trying to achieve from the training.
The diagram below shows an example of a High Intensity Interval Training routine. As you can see, it consists of 8 high intensity, or working, intervals of 20 seconds each, separated by 40 seconds of low intensity exercise, or recovery sessions.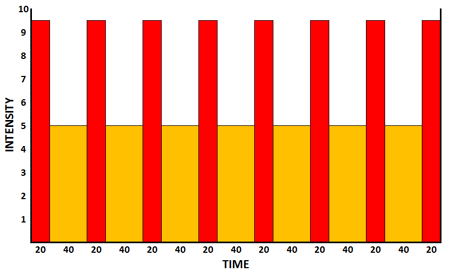 Normally, High Intensity Interval Training workouts can last anywhere from 10 to 25 minutes, plus warm up and cool down.
As you can also see from the diagram above, the working intervals of High Intensity Interval Training are normally carried out at near your maximum level of intensity, and the recovery phases usually at 50% intensity or thereabouts. But again, this can also vary.
Below are a few more examples of possible High Intensity Interval Training routines:
  1. Cross Trainer – 16 intervals of 30 sec working, 30 sec recovery
(Total Time: 15.5 mins, Work/Recovery Ratio: 1:1)
  2. Punching Bag – 24 intervals of 20 sec working, 10 sec rest
(Total Time: 11 mins 50 sec, Work/Recovery Ratio: 2:1)
  3. Exercise Bike – 24 intervals of 8 sec working, 12 sec recovery
(Total Time: 7 mins 48 sec, Work/Recovery Ratio: 2:3)
  4. Sprinting – 8 intervals of 30 sec sprinting, 2 min walking recovery
(Total Time: 18 mins, Work/Recovery Ratio: 1:4)
  5. Running – 10 x 100m sprints, 100m jog recovery
5 x 50m sprints, 50m jog recovery
  6. Running – 4 x 800m runs, 60 sec rest
5 x 50m sprints, 50m jog recovery
So as you can hopefully start to see, there's really no limit to the amount of variations you can introduce into your High Intensity Interval Training sessions.
A little later on we'll explore how these affect the results of your training.
Why Does High Intensity Interval Training Work?
That's a great question! Because up until maybe two decades ago, everyone believed that low intensity exercise like jogging was the best fat burning exercise you could do.
And to be honest, it stood to reason, because we know for a fact that when you do low intensity exercise, your body tends to use body fat for fuel. And when you do high intensity exercise on the other hand, it tends to use carbohydrates (stored as glycogen in your muscles and liver) for fuel.
So why then, would you want to do high intensity exercise to burn fat?
Well, first of all . . .
it really doesn't matter where your body draws its fuel from – at the end of the day the amount of body fat you lose depends purely on the number of calories you burn, or more accurately, the size of your calorie deficit.
It all simply comes down to calories in and calories out. Whenever your body uses carbohydrate energy, its stores get replenished when you next eat. And every calorie that goes into doing that is a calorie that must come out of your body fat calorie balance.
So you see, it's all the same thing.
And secondly, studies have conclusively shown that High Intensity Interval Training is in fact superior to low intensity exercise for burning fat. The main reason for this is that HIIT has been found to increase your Basal Metabolic Rate, or BMR, for up to 24 hours following the exercise session.
In plain English, what this means is that because High Intensity Interval Training is performed at such an intense level, your body ends up spending the next 24 hours or so using up energy to recover from the tough workout you gave it.
This is commonly referred to as Excess Post-Exercise Oxygen Consumption, or EPOC – which means that you consume a lot more oxygen recovering from your exercise session than you would have if you'd just done a long, low intensity workout.
So the end result is that your body burns up to nine times more fat while sitting on the couch later that day than it would have if you'd spent an hour on the treadmill at a moderate jogging pace.
Sounds like a good deal, right?
Well, it is! With low to moderate intensity exercise, you burn almost all the calories during your workout. But with High Intensity Interval Training most of the calorie burning is done post-exercise, during your recovery period. That's why HIIT sessions can be quite short and still get the job done.
Now, understand that I'm talking about pretty intense exercise here. It requires you to push yourself out of your comfort zone and really challenge yourself. But if you're willing to step up to the challenge I can guarantee that you'll spend less than half the time you normally do on the treadmill or those other cardio machines, and get much leaner in the process.
Don't fall into the trap of believing that High Intensity Interval Training is only for fit, athletic people though. Beginners can do it, if they go about it the right way. I'll talk more about this a little later on.
The Benefits of High Intensity Interval Training
It's no wonder that HIIT has become such a popular strategy for burning body fat fast, when you consider the number of terrific benefits it offers. Some of the major ones are:
1. Reduced training time – The first and most obvious benefit of HIIT is the reduction in your training time. Depending on the intensity and design of your workouts, you only need to exercise for half the time, sometimes even less, that you would if you were doing regular, moderate intensity aerobic exercise, to burn off the same amount of body fat.
That's a big plus for women with busy lives . . . like me!
2. No muscle loss – One of the major drawbacks to long-duration, moderate intensity exercise is that it tends to make your body catabolic, meaning that it burns muscle tissue. Why does it do this?
Well, your body is very clever in that it gradually adapts to anything regular or constant, to make itself better able to cope with it in the future. A simple example of this is weight training. When you train with weights regularly, your muscles become larger and stronger, so it gradually becomes easier for you to do.
In the case of long-duration, moderate intensity exercise, think about what your body sees. Firstly, it needs lots of energy to do the work. And secondly, because you're not really challenging your muscles, they're not seen as big contributors to the regular activity.
Now, because muscle tissue is very active, meaning it takes lots of calories to maintain, your body knows that by removing some, it's actually able to conserve energy, since there will then be less muscle to maintain. It also knows that it can use muscle tissue as a source of energy – a double bonus!
So that's exactly what it goes ahead and does, since your muscles aren't being used much anyhow.
For your body, it's the perfect energy conservation strategy. But for someone wanting to lose weight, it's a disaster.
You don't want your body to sacrifice muscle tissue and conserve energy because that means your metabolism will be slower, so you'll be burning fewer calories each day.
With High Intensity Interval Training, the level of intensity ensures that your body won't waste away any of your muscle tissue, since it's being used so much more actively.
3. Higher VO2max increases – Studies have shown that High Intensity Interval Training is far superior to steady-state exercise when it comes to increasing your VO2max. This is basically a measurement of the maximum amount of oxygen your body can take in during exercise.
What that means is that HIIT will increase your cardiovascular fitness more quickly than low to moderate intensity cardio exercise.
4. Improved anaerobic fitness – Unlike low to moderate intensity cardio exercise, High Intensity Interval Training works, and therefore improves, both your aerobic and anaerobic energy systems.
Most women understand the need to improve their aerobic fitness, but many aren't aware that the anaerobic energy system is what provides energy for all high intensity effort for up to one minute. Almost all the activities you perform, whether they come under the category of exercise or not, utilize both your aerobic and anaerobic energy system, to varying degrees.
As an example, the table below lists a number of sports, along with how much of each energy system they rely on:
Activity
Anaerobic
Energy
Aerobic
Energy
Golf Swing
100%
0%
Volleyball
100%
0%
Baseball
95%
5%
Sprinting – 100m
95%
5%
Swimming – 50m
95%
5%
American Football
90%
10%
Basketball
90%
10%
Gymnastics
90%
10%
Tennis
85%
15%
Hockey
80%
20%
Sprinting – 200m
70%
30%
Running – 400m
55%
45%
Rowing
50%
50%
Running – 800m
35%
65%
Swimming – 1,500m
20%
80%
Running – 1,500m
15%
85%
As you can see then, your anaerobic energy system is a very important component of your overall fitness and shouldn't be neglected.
5. Increased metabolic rate – High Intensity Interval Training has also been shown to speed up your metabolism, which means that your body burns more calories throughout the day, even while you're inactive. Exactly what you want if weight loss is your goal.
Performing High Intensity Interval Training
The choice of exercise to use for your High Intensity Interval Training sessions is really up to you and your circumstances. Some exercises, such as running or swimming, don't require any equipment, whereas many other rely on a cardio machine of some description, such as a treadmill, exercise bike, cross trainer, and so on.
The approach I recommend it is to just mix it up. Try a different exercise each time, or alternate between a few of your favorite exercises for each session. The benefit of this approach is that your body is less able to get used to any one exercise, and it also helps prevent you from getting bored.
As you saw from the examples above, the ways to vary your workouts are virtually unlimited. On one end of the scale, you can opt for short (say 10-30 seconds), but ultra-high intensity working intervals – near your maximum level, followed by just enough low intensity activity to allow yourself to recover and do it all again.
And on the other end, you can choose longer working intervals of maybe 1-2 minutes – which will naturally need to be at a lower intensity to be able to sustain them for that long. Again these are then followed by just enough low intensity activity to allow yourself to recover and then repeat the working interval. With this approach you would normally require less recovery time.
So then, which approach is best?
Well, the first, ultra-high intensity protocol focuses more so on your anaerobic energy system and produces the greatest improvement in fitness and fat burn. But it also takes more mental toughness on your part. The second focuses more so on your aerobic energy system.
My advice? Mix them up. Take a different approach each day and keep your body guessing.
You'll always benefit in the long run by introducing variety in your workouts. It keeps things more challenging for your body and more interesting for you.
It also gives you the ability to work out according to how you're feeling on any given day.
High Intensity Interval Training For Beginners
There's no denying that HIIT is a very challenging form of exercise (the results are fantastic, but nothing's free, is it!). So as a beginner you do need to take some precautions and follow a sensible approach to starting out.
The first thing I would recommend is to get yourself checked out medically, because it does require you to push yourself quite a bit, and you don't want to run into any problems health-wise.
Secondly, you should never forget to warm up adequately, and cool down after your workout. Also, if at any point you feel pain you should be sure to stop immediately. Most often this will just be your body settling in to the new challenge you're throwing at it, but it's better to be safe than sorry, as they say.
Now, if you're totally new to exercise and/or your fitness level is very low, the best way to get started in High Intensity Interval Training is gradually. Here's the approach I recommend you take:
Start out with simple, steady exercise sessions of about 30 minutes. These can be jogging, exercise bike, cross trainer, stair climber – whatever you like. Work at your own pace. If you can't keep it going for that long, take a break or two in between by slowing down for a minute or two. But don't stop – always keep moving.
Once you can maintain a steady pace of an exercise for 30 minutes, include the occasional burst where you go faster for some period of time – say 10 to 30 seconds, and then slow back down to your normal pace again. Just do whatever you can manage. Try to do maybe 6 of these bursts in your 30 minute session.
Gradually increase the number, intensity and duration of your bursts of speed. Try to make a little bit of progress in some area each day.
Once you're quite comfortable with your pseudo-interval sessions, you can start designing proper High Intensity Interval Training sessions, starting with longer intervals of not-so-high intensity.
Gradually work your way up to higher and higher intensities, until you can do some really challenging HIIT workouts.
The great thing about High Intensity Interval Training is that you always work within your own limits. What's high intensity for you might be a cake walk to someone else, but that's fine, we all have to start somewhere. The main thing is that you keep pushing yourself to try to make small incremental improvements each time.
Another great benefit that I personally found comes from High Intensity Interval Training is that it increases your mental toughness. More often than not it's your mind that holds you back from achieving levels that you strive for, so HIIT is great conditioning for your mind as well as your body.