The Body Mass Index, or BMI, is normally presented in the form of a BMI Chart. Generally speaking, it's used to quickly and conveniently assess how healthy or unhealthy a person's body weight is.
The BMI is a very widely used measurement, and it's purpose is to classify a person's body weight based upon their height, assuming they have an average body composition (or fat percentage).
It's calculated by simply dividing your weight (in kilograms) by the square of your height (in meters). It can be calculated using a variety of different units though, as you can see with these equations: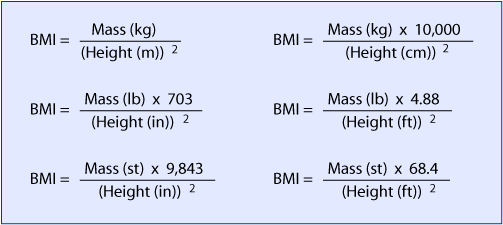 The table below shows the various classifications that your body weight can fall into, based upon your BMI:
| BMI | Classification |
| --- | --- |
| Under 16.5 | Severely Underweight |
| 16.5 to 18.4 | Underweight |
| 18.5 to 24.9 | Normal |
| 25.0 to 29.9 | Overweight |
| 30.0 to 34.9 | Obese – Class I |
| 35.0 to 39.9 | Obese – Class II |
| Over 40.0 | Obese – Class III |
The BMI Chart
The BMI Chart below shows the classifications of body weight based on your Body Mass Index, as your height and weight varies.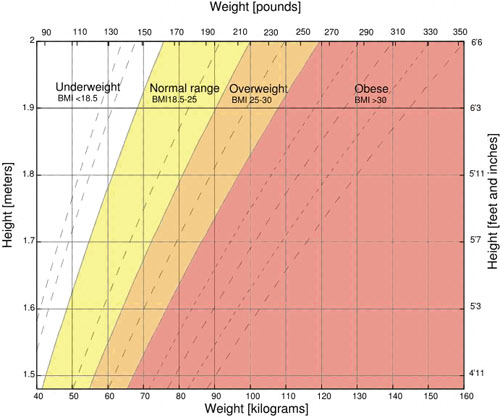 Using the BMI
The BMI has been used by the World Health Organization to measure obesity statistics throughout the world population since the early 1980s. It's also still used quite extensively by medical practitioners as a guide to assessing patients' body weight, usually in conjunction with other measurements or tests.
That being said however, in practice the BMI has a number of serious limitations.
This means that the BMI isn't really suitable as a tool for tracking your weight loss progress.
Limitations of the BMI
The main problem with the BMI is the fact that it assumes the distribution of muscle and bone mass in your body is average.
That means it can't really distinguish between muscle weight, fat weight and bone weight in your body – it treats them as being all the same. And that's not exactly the case, is it?
So as a result, the Body Mass Index can actually provide misleading information, particularly in the following cases:
For people whose bodies have a higher than average muscle proportion, such as athletes, the BMI will be incorrectly high.
For people whose bodies have a lower than average muscle and bone proportion, such as the elderly, the BMI will be incorrectly low.
Think about this example:
A woman who loses fat mass through an effective exercise program, but at the same time gains an equal amount of muscle mass, will have no change at all in her Body Mass Index value, even though her body composition will have actually improved quite a bit.
As you can see then, using a BMI Chart certainly wouldn't be a very reliable way of tracking improvements in your body's condition as you lose weight. The preferred measurement for this task, and certainly the one I recommend to women, is your Body Fat Percentage, which you can read more about in other articles within this category of the site.