Getting rid of cellulite is a preoccupation with many women because of its unsightly nature. But is it really possible to reduce, or even remove, cellulite altogether?
When you consider all the treatments, therapies, creams, and so on, that are available these days to treat cellulite, you can certainly be excused for believing it is in fact possible, one way or another.
But things, as they say, aren't always what they seem.
Let's start by looking at what exactly cellulite is.
What is Cellulite?
Before figuring out whether or not getting rid of cellulite is a realistic ambition, it wouldn't hurt to understand what exactly we're dealing with, right?
Well, cellulite isn't actually considered a disorder, in fact the general consensus among medical professionals is that it's a normal condition for many women. And "many" is right – it's believed that 80-90% of post-adolescent women are affected by cellulite.
In contrast, cellulite is actually quite rare in men.
The term cellulite is actually used to describe the dimpled or nodular appearance of skin caused by pockets of fat trapped just below the skin's surface.
It most often appears in the buttocks, thighs and legs – up to about 10cm above the knees, and usually after puberty.
There are 3 levels of severity of cellulite:
Level 1 – The skin has to be pinched or muscles have to contract in order to see dimpling on the skin surface.
Level 2 – Cellulite is only visible when you're standing.
Level 3 – Cellulite is visible when you're standing or sitting, with raised and depressed areas and nodules on the skin surface.
Although cellulite is often associated with obesity, the two actually aren't related. In fact, cellulite can occur in thin, lean women as well as overweight women.
Underneath your inner and outer layers of skin (dermis and epidermis) you have three specific layers of fat – the subcutaneous fat layer and two reserve fat layers, followed by a layer of muscle tissue.
Cellulite forms in the subcutaneous fat layer – the one nearest your skin. This layer of fat is unique because its fatty parts are structured into specific chambers by being squeezed together by strands of linked tissue around them.
In women these chambers are upright, with the connective tissue between them running straight up and down. In men they're organized into small slanting units, with crisscrossing connective tissue. These different structures are shown in the diagram below: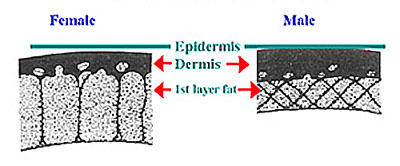 Cellulite is far less likely to form in the skin of males for several reasons:
The chambers of fat in a male's skin store smaller amounts of fat.
The chambers of fat in a male's skin are more tightly held together.
Men tend to accumulate fat in the abdominal area, whereas women tend to store fat mostly in the buttocks and thighs.
Men have thicker skin than women.
Cellulite forms when the fat cells beneath the skin become larger and get pushed up into the dermis. The connective tissue surrounding the fat cells remains the same length, or will actually even contract with age, and so the fat produces bulges, or dimples, in the skin. It's effects also increase with age as your skin becomes thinner and less firm.
The diagram below illustrates what this actually looks like under your skin.
What Can be Done About Cellulite?
The unfortunate truth of the matter is that preventing or getting rid of cellulite altogether simply isn't possible.
Despite the wide variety of treatments available, it's only really possible to make slight improvements in its appearance, and even then, usually not on a permanent basis.
Many doctors believe that even liposuction produces limited results in getting rid of cellulite, since the procedure isn't designed for the removal of shallow fat, which is what cellulite essentially is.
By and large, the majority of cellulite treatments promise unrealistic results and are nothing more than expensive and misleading scams. Others, on the other hand, can in fact produce some real, albeit modest, improvements to your cellulite's appearance and may therefore be worthy of your consideration.